Commodore's Party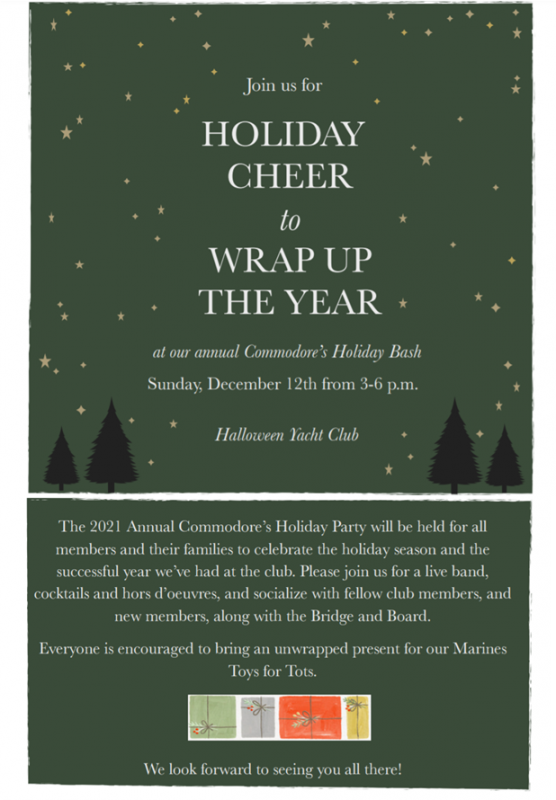 2021 Commodore's Party update.
The Commodore's Holiday Party was held at the clubhouse on December 12, 2021. What a fantastic
event it was! We had great food, a great band and great company. The event was an overwhelming
success. Special thanks go to Santa Claus for making a surprise visit, to Mia Savona and her team
for organizing and running the event and to Brian Faubel for supplying the tent and heater. Our
volunteers are what makes our club tick, and this magnificent event was proof of that premise. We
can all look forward to more great events in 2022! Photos from the party will be featured in our
January newsletter!
In conjunction with the Holiday Party the Club ran its annual Marine's Toys for Tots drive. At the
end of the event the boxes were overflowing with gifts. A special thank you to all who donated–
your generosity is very much appreciated.
2021 Commodore's Party is back, Sunday, December 12th, 3:00 – 6:00 pm. 
Our Annual Commodore's Holiday Party will be held for all members and their families on Sunday, December 12th, from 3 to 6 pm. Please join us for cocktails, hors d'oeuvres, live music, and socializing with fellow Club members along with the Bridge and Board. Everyone is encouraged to bring an unwrapped present for our Marines' Toys for Tots drive. Thank you in advance for your generosity. This is a great opportunity to get an early start on your 2022 work hours! Volunteers are needed for decorating the clubhouse for the holidays on Saturday December 11th. Volunteers are also needed to help at the party on December 12th doing set up, light kitchen work, and after-party clean up. Support your Club and get a great head start on your required work hours while enjoying a fun time.
2019 Commodore's Party Photos